Creativity finds different outlets in everyone. For some, it's painting, sketching, or even random doodles in a notebook. Others prefer music. Even running, cycling, or time in the gym can be an outlet for creativity.
But there are some who channel their creativity into actual creation. They are the craftsmen, people taking raw materials and using them to produce something new. Creative hobbies run the gamut from painting to pottery and whittling to smithing. But with increased access to high-end machine tools, more and more hobbyists are discovering the joys of owning their own home milling machine.
Desktop CNC milling machines used to be reserved for high-end machine shops. On paper, these are highly complicated machine, multi-axis CNC machine tools requiring an advanced CNC controller to operate.
Fortunately, in today's world, it is possible for hobbyist machinists to own a high-end CNC milling machine. In this article, we'll explore the single most important question a hobbyist needs to ask when considering their own milling machine: what do you need in a hobbyist mill?
What to look for in a hobbyist mill
There's nothing particularly unique about the construction of an actual hobbyist mill. The basic operation of the machine remains the same. The mill will still have a spindle, a bed, and certain axes of movement. The working area tends to be a bit smaller than most professional mills; some hobbyist mills are often described as mini mills due to their reduced footprint.
At the end of the day, hobbyist mills are simply milling machines used by hobbyists. Every hobby is different, which means that every hobby will need slightly different requirements. Some hobbyists are happy with a simple 3-axis machine capable of moving along the X, Y, and Z axes. Others might require more advanced machines, such as highly advanced mini CNC jeweler's mills.
In general, hobbyist mills are a step up from a drill press or combo tools. Mills are advanced drilling machines, capable of end mill processes as well as slot cutting.
There are certain general characteristics shared by most hobbyist mills.
Size
In theory, some hobbies might require industrial-sized machines with immensely powerful engines. But in reality, most hobbyist mills are smaller, lighter machines. Most hobby mills fall into one of two categories – benchtop or tabletop milling machines, and mini milling machines.
Benchtop milling machines are small enough to be mounted on a heavy-duty worktable, rather than standing directly on the ground. Smaller than full-sized production models, benchtop milling machines vary widely. Some larger models won't be much smaller than a typical industrial mill, while others are small enough to fall into the mini mill category.
Mini milling machines are just what they sound like; extra-small mills that sacrifice a bit of power in exchange for versatility. These mills are smaller even than benchtop mills and tend to be made of aluminum and other lighter alloys rather than the solid cast-iron construction of heavier industrial mills.
The size of mill you need depends largely on what size workpiece you'll be tooling. The larger the mill, the large the workpiece that can be accommodated on it. Your hobby will often dictate the size you need. Woodworking with small and intricate pieces might only require a standard benchtop lathe or mill, while a jeweler might need a mini mill.
Power
You can measure the power of a mill in two primary ways: engine horsepower and spindle speed. Most mills will have variable speed controls, allowing the operator to adjust the speed of the mill depending on the job and material being cut.
Mini mills typically have spindle speeds in the range of 0-2500 RPM, with spindle motors around 0.5 horsepower. Larger benchtop mills might have engines in the 2-3 horsepower range, with RPMs up to 3000. A high speed is helpful, but often other considerations are more important to the end result.
When choosing between a small benchtop milling machine or an extra-small mini mill, remember that there's a tradeoff between size and stability. Larger, heavier machines are more powerful and also more stable. Increased stability reduces the need for extra clamping on the workpiece and helps the mill to make more accurate cuts. They also tend to have better durability than smaller milling machines, with heavier and more robust parts from larger stepper motors to heavy-duty collets.
Of course, most hobbyists may not need the size and strength of a larger mill and might be able to get more use out of a highly versatile mini mill instead.
Key Characteristics of a Hobbyist Mill
Start with high quality parts and production. Some people fall into the trap of thinking of hobbyist machines as entry-level machine tools. And while many hobby machinists do start with smaller desktop CNC mills, there's no need to sacrifice high precision.
Look for a hobby CNC mill that's equipped with all the basics of a production-capable CNC milling machine. That means advanced but user-friendly control software, full G-code programming, a comprehensive warranty, and perhaps even extras like simple and clear tutorials for the specifics of your new machine.
Most hobbyist mills can work with a variety of materials, from stainless steel to soft metals to acrylics and MDF. Some of those might be better suited for your DIY CNC router, but the key to a hobbyist mill is versatility.
A good hobbyist mill can have a long life in the workshop, even if you move on to bigger and grander ambitions. Desktop mills are great for prototyping, ironing out the bugs in the program for a new part before putting it into mass production.
What can you do with a milling machine?
Milling machines are one of the classic machine tools. They are perfect for cutting slots, making furniture, drilling holes, and even finishing parts. With the addition of CNC advanced technology, milling machines allow hobbyists to design and construct custom parts completely from scratch.
Milling machines enable hobbyists to pursue other hobbies more easily. Metalworking fans will discover that a milling machine allows them to finish out their metalworking projects far more quickly and precisely. DIY jewelers can use a mini mill or a small mill to design and finish highly intricate and beautiful pieces. Woodworkers can even use a milling machine or its close cousin, the CNC router, to create ornate wood carvings and custom plates.
Hobbies are nearly limitless, and milling machines are just as versatile.
CNC Masters Hobby Benchtop Milling Machines
CNC Masters provides a wide range of milling machines for all uses. Any of these mills could be used in a home-based workshop, but two of the CNC Masters line are ideally suited for hobbyists.
The first is the JR Table Top CNC Mill. A classic tabletop CNC milling machine, the JR features a 2 HP motor with a 12-speed variable spindle up to 3000 RPM. The machine features cast-iron construction with sufficient weight (700 lbs) to provide increased stability for hard-to-make cuts. Like any CNC milling machine, the JR includes a programming Computer Numerical Control system that is easy to learn and integrates with any Windows-based CAD program.
The JR is a powerful vertical milling machine for any hobbyist. It's small enough to feature in nearly any workshop but large enough to tackle all but the biggest projects.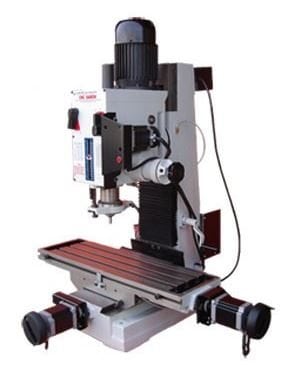 The other option from CNC Masters is the BARON Milling Machine. Another tabletop option, the BARON is a larger, slightly heavier (800 lbs) version of the JR. The BARON features a full CNC package with variable speed settings and an adjustable dovetail column. It's a mill that allows even hobbyists to undertake advanced CNC machining with a powerful, sophisticated vertical mill.
Both options from CNC Masters are American-made and include digital readouts.  You can rest assured of excellent, in-country customer support.