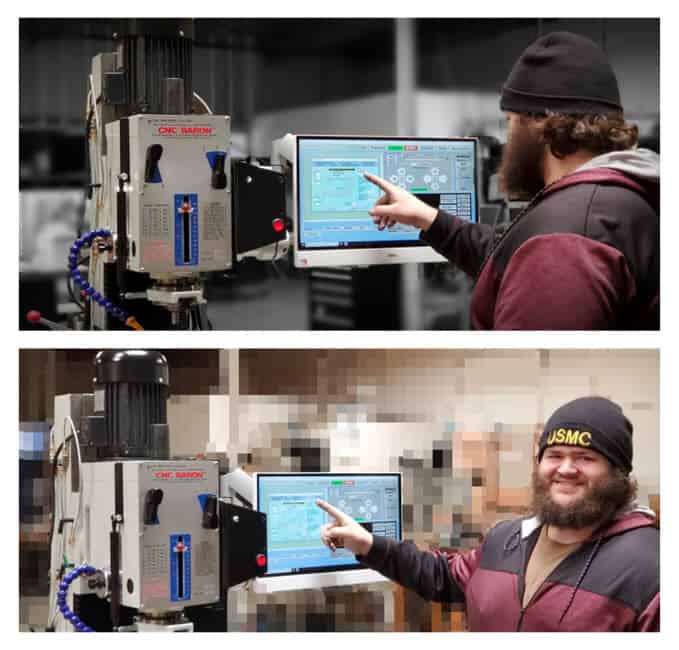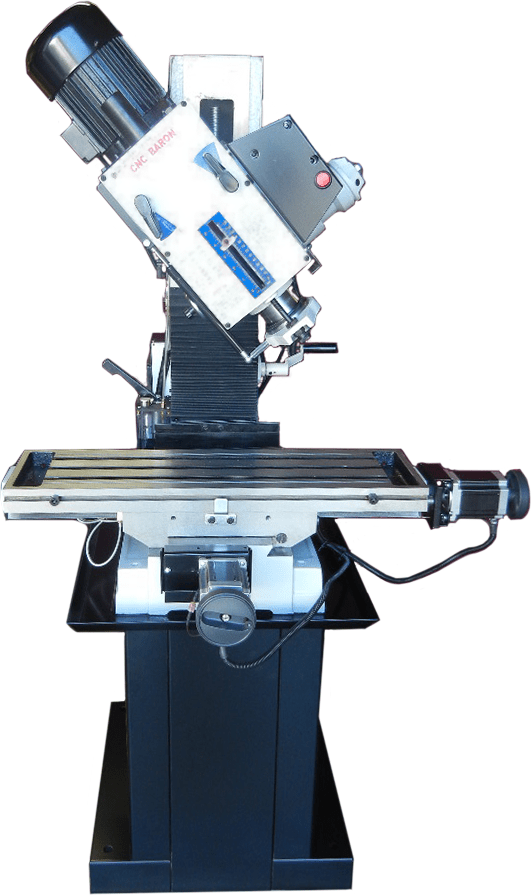 Optimized-cnc masters baron 1.jpg
Optimized-baron with computer cnc mill 2.jpg
Optimized-baron with computer cnc mill 3.jpg
baron-bench-top.png - copy
baron-bench-top.png - copy - copy
baron-bench-top.png - copy - copy - copy
baron-bench-top.png - copy - copy - copy - copy
Baron-cnc-machine-left-view-2.png
baron-left-side-cnc-milling-2 (2)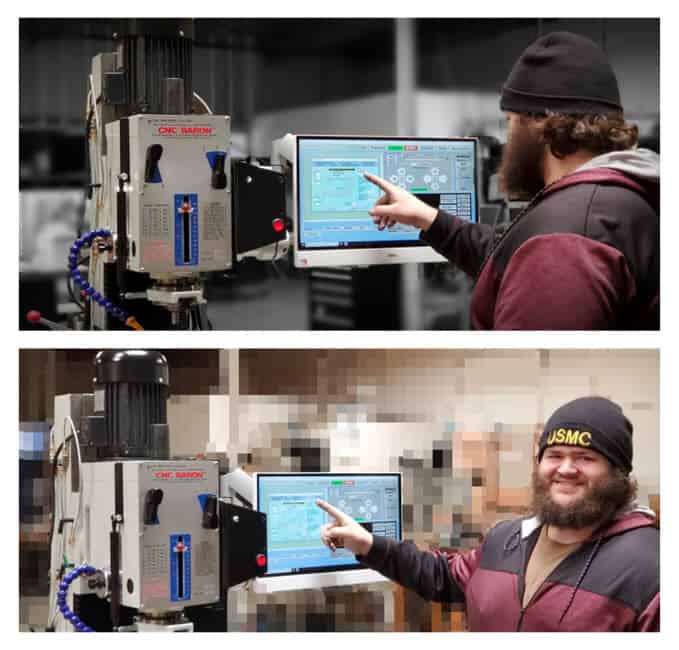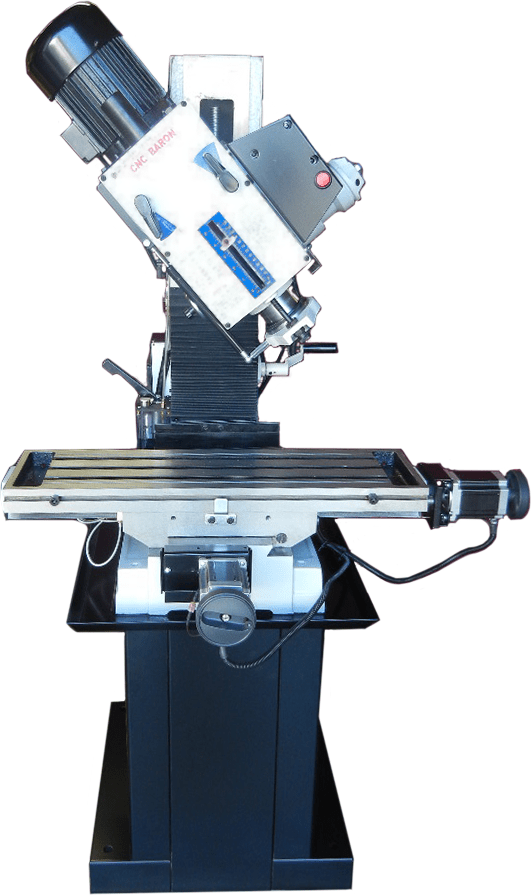 DESCRIPTION
CNC BARON DOVETAIL COLUMN TABLE TOP MILL 3 AXIS CONTROL W/MOTORS CABLED (115VAC), W/COMPUTER VARIABLE SPINDLE (2HP) CONTROL (240VAC, SINGLE PHASE), GEAR HEAD, HANDWHEELS, X/Y BALLSCREWS W/PRE-LOADED NUTS, HOME SWITCHES, ONE-SHOT OIL LUBE, MASTER MX OPERATING SOFTWARE, AND USER'S MANUAL.

CNC Masters presents a new CNC Mill, the CNC Baron, to our line of CNC milling machines. It is specifically designed for the machinist who needs both efficient and compact equipment at an excellent value. The CNC Baron Milling Machine is turn-key, and easy to both learn and operate. The CNC Baron Milling Machine is durable with a cast iron body without the size of a larger machine. With the smaller frame of the CNC Baron, it is perfect for large and small manufacturing plants, machine shops, and a variety of other institutions that require the mass production of a single part without taking up much space.  Our custom CNC Master software is included with every purchase of out CNC mills. Our software runs on Windows operating systems. The CNC Baron Milling Machine comes with a one year warranty. In addition to a one year warranty, our company provides comprehensive quality testing on all of our machines.


Customer satisfaction is our number one priority here at CNC Masters. We offer product support for the CNC Baron Mill and its operational software by phone or e-mail for as long as you or your company owns the CNC machine.
Full 3 Axis (4th optional) coordinated motion control on bipolar motors.
[X=21.5″] x [Y=7″] of Travel.
Custom CNC Master Software included
Works with USB connection, 64 bit operating systems:  Windows 10 or 11
Powerful X, Y, and Z axis micro-stepper motors – size 34 with 1200 in/oz torque
---
The CNC Baron Mill is durable and precise with a cast-iron body, with dovetail ways on the square column for vertical alignment. It is a versatile bench top mid-size CNC mill made for the user who needs both primary and secondary CNC machining applications.
The Baron, our new CNC mill is a great investment for business owners who lower costs by creating their own parts. The mill is simple to operate, offering immediate efficiency solutions that save the operation both time and money. The CNC Baron milling machine is proudly assembled right here in the U.S.A., and it combines both imported and American-made parts in order to offer our clients the most competitive pricing anywhere. Every milling machine at CNC Masters is hand-tested for quality and performance before we package and crate it and get it on a freight truck from our manufacturing facility in the Los Angeles area, California.
CNC milling machines have an important role in the quick and accurate production of high precision components. Since there are different types of advanced milling machines on the market, here are some basic features of these machines explained:
CNC machines exist in two different forms.
When the spindle performs horizontal cutting, it is known as horizontal milling machine, whereas the vertical machining center has its cutting tool positioned accordingly. The head of the CNC Baron Milling Machine tilts for angled drilling, horizontal milling, slotting, and more. Its dovetail ways on the column, X table, and Y saddle allow for precision alignment and movement.
They involve versatile movements of both the cutter and work piece.
Unlike conventional machining centers, the milling process involves controlled movements of both work pieces and cutters based on the integrated software control. These features can actually perform complex parts production based on versatile cutting movements, which is the reason CNC mills are available in different models – 3, 4, and 5-axis machines. The CNC Baron Mill has full 3 Axis (or optional 4 Axis) coordinated motion control on bipolar motors, which is far superior over the unipolar technology in terms of torque and power.
The operation is based on a software control system.
Most CNC milling machines are computer programmed to perform intricate milling operations that aim to minimize contact between the operator and the cutting tools.
These are available in various sizes based on the sizes of the components.
These machines have different sizes which are custom-made for producing various component sizes. The large size CNC milling machines are meant for producing large parts, and vice versa.
Precision Machining using CNC Milling has many user benefits, including:
Components Produced with Repetition and Accuracy
3D Complex Components Made with Ease
Programs and Fixtures Can be Saved to Reduce Repeat Setup Costs
High-Speed Precision Machining Shortens Lead Times
Most Materials (Including Hardened Steels) Can be Cut with New Cutter Technology
The CNC Baron machine and controller are built to stock in-house in the USA. We do not buy and re-sell our CNC Driving System. So we'll never bounce you to a third-party vendor for limited support to either their controller or another vendor's machine.
The Baron cast iron CNC milling machine is a turn-key solution specifically designed for those who need efficiency in a compact space.  Add rigid tapping control – no need for tapping heads attachments – to tap your series of holes after just running a multiple hole peck drilling operation.  Add a fourth axis, probe control to scan and duplicate parts, or a hand held pendant control to your CNC Baron Mill.
TECH SPECS
CNC Baron® Milling Machine Specifications
Model
CNC BARON
X Axis: Left/Right Table Travel
21.5″ (546 mm)
Y Axis: Front/Back Saddle Travel
7″ (175 mm)
Z Axis: Spindle Up/Down Travel
5″ (127 mm)
Maximum Distance from Spindle Nose to Table
18″ (450 mm)
Swivel Angle of Headstock at Perpendicular Direction
+/- 90 Degrees
Drilling Capacity
.75″ (19.05 mm)
Face Mill Capacity
3" (76.2 mm)
End Mill Capacity
.75″ (19.05mm)
Working Area of Table – Table Specs with T-Slots
31.5″ x 9.5″ (800 mm x 240 mm)
Spindle Taper
R8 Collet
Spindle Motor and Power – Computer Variable Spindle Control
2 HP; 220-240vac single phase
Spindle 6 Speeds Gear Head with Oil Bath for Stronger Torque
60 HZ: 196, 388, 662, 893, 1768, 3000 RPMs
50 HZ: 163, 323, 552, 744, 1473, 2500 RPMs
Limit Switches on Opposite Ends of Travel
X Y Z
Max Rapid on X Y Z
150 IPM (3810 mm/m)
One-Shot Oil Pump
Lubricates Dovetail Ways, Tapered Gibs, and Quill
Machine Body and Head
Cast Iron
Computer Connection to Control Unit
USB Port, Windows 10 or 11 PC 64 bit
X Y Z W Stepper Motors
NEMA 34, Bi-Polar, 1200 oz-in of torque
Overall Length w/out X motor (left end of table to right end)
35.375" (898.525 mm)
Overall Width w/out controllers and Y motor (front to back of machine)
27.75" (704.85 mm)
Overall Length (left end of table to right end of X motor handle)
42" (1067 mm)
Overall Width (back of machine with controllers to front end of Y motor handle)
42" (1067 mm)
Machine Height (without machine stand)
42" (1060 mm)
Machine Stand Height
30" (760 mm)
Machine Stand Chip Pan
30.75" x 22.875" (781 mm x 581 mm)
Machine Base 4 Bolt Pattern to Stand
22.25" x 12.75" (505.15 mm x 323.85 mm)
Max Movement Area
62.5″ (1587.5 mm) x 42″ (1067 mm)
Weight
800 lbs.
Baron CNC Milling Machine Power Requirements
| CNC | BARON | MILLING | MACHINE |
| --- | --- | --- | --- |
| 110VAC dedicated circuit with a NEMA 5-15R | | | |
| 220 to 240 VAC, single phase with ground @ 15 amp service required | | | |
Baron CNC Milling Machine Tolerances
| Accuracy | +/- 0.003″ (or 0.0762 mm) |
| --- | --- |
| Repeatability | within 0.0005″ (or 0.0127 mm) |
| Resolution | 0.0002″ (or 0.006 mm) |
NOTE: The CNC Control Unit is available in either 110 or 220VAC models. The 110 VAC model will be shipped unless otherwise requested.
Can the Baron CNC Milling machine fit through a 35" – 36" door way?Yes it can. Move the milling machine in diagonally. The X and Y motors are disconnected from the axes for shipping purposes. You can remove the hand cranks off each motor, stick ½" bolt into them and easily mount and secure the hand cranks directly to the X and Y ball screws to drive and position the axes so that you can move the machine through the doorway without having to dismantle it. However, it is certainly possible to dismantle the milling machine by removing a few bolts. Call or email us to walk you through this procedure.
Can I fit the Baron cnc machine in a basement?It is possible. Make sure your stair ways can support the weight of the machine. Use a refrigerator type dolly, strap the machine to it. Use ¾" plywood to rest over the stairs, use a hoist with ratchet to gently lower the machine down the stairs. Follow all recommended safety cautions.
FEATURES
This CNC milling machine is designed to work with Windows 10 or 11, 64 bit operating systems through your standard USB port.
Powerful X, Y, and Z-axis micro-stepper motors are size 34 with 1200 oz-in. of torque. Stronger torque coupled with micro-stepping motion allows the Baron CNC milling machine to perform accurately without losing steps.
The minimum possible motion is 0.0002″ with a minimum speed of 0.20″ per minute. The maximum speed is 150″ per minute on your Rapid Settings with ramp down effect to keep the cnc milling machine from jerking.
Full 3 Axis or optional 4 Axis coordinated motion control on bipolar motors–far superior over unipolar technology when it comes to torque and power. True Interpolation!
Head tilts for angled drilling, horizontal milling, slotting and more
Hand scraped dovetail ways with tapered gibs on the column, X table, and Y saddle for precision alignment and movement
One-Shot Oil Lube on all dovetails and ways
X and Y Zero Backlash Ball Screws with pre-loaded ball nuts to eliminate play on the table and saddle travel, and provides precision machining down to /- 0.00025″ in one inch. These custom-made precision ball screws allow for precision conventional and climb milling operations and accurate circular and contour cuts without time consuming setups.
The Baron cnc milling machine has the Z Axis pre-load arranged to eliminate backlash on the up/down travel
X and Y Direct Drives–no timing belts to adjust. This results in smoother operations and ensures accuracy unlike pulley and belt drive methods which can cause the belt to buckle causing inaccurate results. This unique design of direct drive keeps the user without having the need to change the belt or adjust as it wears down.
Home Reference Sensors on the X, Y, Z which saves your home/zero position as the first line of your program. This feature allows you to quickly return to the home position on any program without having to manually zero your three axes again.
Limit Switches on all opposite extreme ends of X, Y, & Z travel allowing you to confidently test your program without having to worry about an axis travel to its end and causing damage to machine.
Tool Height Compensation with Automatic Quill Retraction for easy quick tool change when doing multiple tool changes in a single program.  Check out the quick change tools which are needed for multiple tool changes.   
Run your tool path from any line on your program
Easy to Use Jogging Features and Feed Control by pc mouse or keyboard
Use Teach Mode Jog-Input Command to automatically write each line of your tool path as you manually jog each axis by pc mouse, keyboard, or the optional hand held remote control joystick to save as a program for repeat use.
Software Power Feed capabilities on X, Y, Z, and W with one click of the pc mouse for exact relative driving distance.
Pre-engineered for you when it comes to pitch and resolution. No tuning or calibration needed at setup. No additional parameters set-up required. Display resolution is 0.0001 micro-stepping travel. Just start using your machine.
Runs files from popular CAD-CAM that produce standard FANUC type G-Codes to machine or engrave intricate and detailed parts.
Easily build a file of commands to machine simple parts such as drilling and slot operations without the need to learn to use a CAD-CAM program.
Digital Read Out Display of your X, Y, Z, (and optional W) counters on your computer screen in INCHES or METRIC using your PC mouse, keyboard, or our optional Hand Held Remote Control.
Add other options such as 4th Axis, Rigid Tapping Control, Digital Probe, Hand Pendant Control, Coolant Control, Quick Change Tools, and Computer with Arm from our line of accessories.
Computer Controlled Variable Spindle Speed with gear-head to change speeds quickly while retaining torque. Program your spindle's speed in the MX Software through M-codes, simple English conversational commands, and on the fly with your PC mouse.
Hand-Wheels on each axis for manual option machining with "motor disengage" feature to retain computer spindle speed control for the cnc mill
This CNC mill features a user-friendly setup for any beginner or experienced machinist. Easy to learn and operate. See our testimonials.
The Baron cnc milling machine is backed by our CNC MASTERS ONE YEAR WARRANTY or extend it for two more years.
Unlimited "Life-Long" Tech Support step-by-step trouble shooting and walk-through process by email or phone Monday-Friday during normal business hours, pacific time, for as long as your company owns the machine. (Nominal fee for second hand owners.)
Easy to repair, replace parts, and maintain unlike costly servo systems that need to be serviced.
Free MX Operating Software Updates for original owners as long as the hardware can support it.
Click the image to enlarge or to view as a slideshow.
MX Software Included
Try out the new Master MX.  The MX works exclusively with the CNC Masters MX Numerical Control Units now being built with our CNC milling and lathe machines.  The MX software is included with your CNC Masters Machine.
Download Master MX slide presentation in PDF
Click here to view list of Videos demonstrating the Master Software
Easy Wizard Cycles for quick tool path creations such circle patterns and profiles, slots, rectangular pocketing, thread milling, rigid tapping (with optional encoder kit) and peck drilling applications.
Import FANUC based G and M code programs from your CAM software. We also offer VisualCAD/CAM as an option which comes with a guaranteed post processor made for CNC Masters machinery.
G00 = Position (Fast speed)
G01 = Linear interpolation (Feed speed)
G02 = Circular interpolation (CW)
G03 = Circular Counter-clockwise interpolation (CCW) Format: X__Y__I__J__ I,J are relative distance from start to center.  Z can be added for helical designs. 
G70 = Input in inches
G71 = Input in millimeters
G73 = High-Speed Peck Drilling Cycle
G81 = Drilling Cycle
G82 = Counter Boring Cycle
G80 = Cancel Cycle
G83 = Deep Hole Peck Drilling Cycle
G90 = Absolute move (Modal)
G91 = Relative/Incremental move (Modal)
M00 = Pause
M03 = Spindle on
M04 = Spindle on reverse
M05 = Spindle off
M08 = Coolant on
M09 = Coolant off
M30 = End program
Don't know G-codes?  Use Conversational Commands from our Pick Menu and simply type in your coordinates or mix it in with G-code commands right in the Editor.

ABSOLUTE
INCREMENTAL
SPINDLE ON
SPINDLE OFF
COOLANT ON
COOLANT OFF
MOVE
RAPID
FEED
CWCIRCLE
CCWCIRCLE
CALL
GO HOME
DELAY
PAUSE
FEED HOLD
/NOTES
END

View your tool path program in 2D or 3D in Simulation Mode.
Use your touch screen monitor – desktop or laptop – Windows 10 or 11 – 64 bit operating systems to drive your CNC machine in pendant style.
The MX is designed for PC use.  Dedicate your PC or or order from us an All in One Touch Screen Computer with mounting arm for your machine.
No additional hardware needed.  Plugs in by simple USB connection.  The CNC Masters MX Control Unit is built with direct USB connection.  No internal port conversions or having to use other hard-to-locate platforms.
The MX supports…
Tool Height Compensation up to 30 Tools within one program
Tool Radius Offsets
Feed Hold – step through each line in the program while opting to shut the spindle off and then resume program
Pause in the middle of a program and step through one line at a time
Coolant Control – optional
Variable Spindle Control from 0 to max – optional
Spindle Encoder for rigid tapping – optional
Jog Feed/Teach Mode –  create a program simply by jogging your axes
Feed and Spindle Speed Over-Rides on the fly
Relative exact movement positioning without writing a program  — type in one movement and one-click your jog +/- arrow to drive that exact movement
Start from another location other than 0.00 – just preset the new coordinates directly into the counters
Press Go from another location in your program to drive your cutter
Save your 0.00 position as well as a home offset position for future program runs
Live Counter Display during computer numerical control movement without jumping ahead
Displays and runs in either inches or millimeters
4th axis interpolation – simultaneous motion with the other axes – optional
Rapids up to 100″/minute
Trace Mode – Run one line independently at a time from beginning to end in your program to help you study the movement and establish your setup
Editor Locked/Unlocked to easily write and edit your program and prevent accidental typing during a program run
Displays Run Time
Hot Keys – if your preference is to control your machine by keyboard such as the arrows, space bar, and letters simply open the Hot Keys command
Run Sub-Routine programs using CALL for nesting applications or to mass produce the same part on a constant loop.
Disable Motors — Easily disable motors to hand crank each axis.  Re-engage the motors for cnc control in one click.
Give us a call at 626-962-9300 to request your free demo of the MX Software.
Questions?  Email us at sales@cncmasters.com.