PRICE & SUMMARY DETAILS
$10,985.00 base price

The 1440 CNC Lathe has the ability to revert to manual control quickly and efficiently, eliminating the need to write a CNC program for short runs. At the same time, its advanced CNC capabilities transform complex manual turning applications into easy-to-program language to run that complex part accurately many times over on production runs.
Versatile machine that instantly converts from CNC to Manual mode
40″ Distance between centers with 14″ swing over bed
Full 2 Axis coordinated motion control on bipolar motors – True interpolation
Home Reference sensors on the X & Z Axis
2 HP main spindle motor
CNC Masters custom software is included
Reasons to Choose CNC Masters:
Support –  We take our after-sales support very serious on our cnc machinery for as long you own the machine.  Call or email as needed, we will be happy to assist along the way. We are one of the leading machine tool companies in the United States and as such offer unparalleled service and support.

We are an American business based out of Irwindale, California.  You will never be directed to an off-shore service.

All of our CNC Lathes are built here in the USA.  We test every machine for quality and reliability before we package and crate them here at our Irwindale facility.

Our CNC Lathes are easy to use and learn, easy to maintain.
These are simple, low cost cnc machines that can be operated full time for productions runs, R & D work, small or large volume manufacturing.
An operator without cnc machining experience will pick up using these machines fast.                                                                                              

DESCRIPTION
CNC Masters' CNC lathe 1440 Turning Center
This CNC Lathe converts back to all its original manual mode for quick conventional machining.
Improving production is critical to business growth, as well as to the survival of companies with a limited budget and looming deadlines. Having a turn-key solution that keeps the machining applications in-house is vital for any company looking to keep costs low without sacrificing exceptional quality.
Most machinists prefer the look and feel of a manual lathe, especially if it is turn-key, easy to use, and most importantly, if the machine can begin turning their parts the same day it arrives. CNC Masters is pleased to introduce our own brand of CNC lathe technology. By combining what machinists look for in a manual lathe together with the perks of CNC, our 1440 CNC Lathe was made to address the needs of businesses, hobbyists, and institutions looking for their own turning center that is mid-size for small and larger applications.
The unique design of a conventional manual lathe, with the power of automation technology through CNC, allows any user to quickly machine their applications without advanced CNC training. Now, entrepreneurs can use their own turning centers to create prototypes in-house without having to give away the product idea to another shop.
R&D engineers no longer have to wait for parts to complete their designs.  Also, novices who are completely new to lathe machining now have the ability to learn how to use the machine while slowly easing into CNC mode of operation. Now, a one-man machine shop overwhelmed with chamfering applications can use the 1440 CNC Lathe to create a small tool path program to drive the X and Z axes many times over, simply with the click of a mouse.
CNC Masters' CNC 1440 turning center is a gear head, mid-size lathe made for primary or secondary CNC machining applications. It is designed to deliver the performance of a true CNC turning center without taking up the floor space of larger, expensive CNC machines, which require highly-skilled, trained machinists.  Use this machine full time forty hours a week!
The CNC Masters 1440 Lathe is a great purchase for manufacturing plants, machine shops, research institutions, colleges, universities, high schools, and engineers who need to quickly prototype their parts, or one-man operations who need to turn hundreds of the same part in their home shop through CNC. Our 1440 CNC Lathe machine is a great investment for business owners who want to save money by turning and facing their own parts instead of outsourcing the order.
As an added benefit, the 1440 CNC Lathe can fit in areas where space is limited. Despite its smaller size, it can machine almost any application within 14″ on the swing or 8″ over the cross slide, and 34.50″ on the carriage travel.
The 1440 CNC Lathe is held to the same standard as all of our other products. Always manufactured with the user in mind, CNC Masters has committed to producing an elite product, and it shows in the design and construction of the CNC 1440 turning center. Space-efficient and powerful, this lathe will become a great asset to any shop or production facility.
With this product, we offer a superior CNC turning center, and we are confident that our customers will quickly agree and confirm this claim. Its ease of use is perfect for novice machinists, but thanks to the flexibility of the machine, experts in CNC will also be able to use the 1440 CNC lathe with fantastic results.
In addition, whenever our customers purchase a CNC Masters product, it comes with the excellent customer service that has made us a leader in the industry. When the CNC Masters name is attached to a machine or machining accessory, we strive to give the best support we can offer by keeping lines of communication open with all of our customers. We always welcome our customers to contact us with any questions at any point during the operation or maintenance of the CNC lathe. We value our customers and the relationships we build.  Tech support by phone or email is part of package for as long as your company owns the machine.  
As is the case with all of our products, our 1440 Lathe will deliver superior performance at a lower price than our competitors. To further help our customers, we also offer financing for our products. Contact us directly – or use our online form – to get yours right away.
EVERY CNC MASTERS CNC 1440 TURNING CENTER IS HAND-TESTED FOR QUALITY AND PERFORMANCE BEFORE LEAVING OUR MANUFACTURING FACILITY IN IRWINDALE, CA.
Leveraging CNC: How the 1440 CNC Lathe Will Make You Money

The 1440 CNC Lathe is an ideal machine for the self-starting entrepreneur who needs to keep an eye on development and operating costs. This solid machine has been built with both experienced and novice users in mind and has been reasonably priced to allow most business owners to begin performing their own in-house creations.
The advantage to owning and operating your own CNC lathe is multi-faceted. First, you can determine the priorities of your work flow to ensure that production occurs when you want it to. Secondly and most importantly, you can keep your ideas within your own company without being concerned that your latest project is revealed to the public or competitors before you are ready to bring it to market.
The 1440 CNC lathe is surprisingly easy to learn and use. Its ability to integrate with the proper software and the incredibly easy to learn software application means that you can be up and running the very day it arrives at your shop. Its compact structure also means that you can easily designate a working area for your new tool that will not require the creation of a new work space.
Perhaps best of all is that the 1440 CNC turning center is very competitively priced and easy to purchase. CNC Masters also offers excellent and reasonable financing options so that even business owners on a tight budget can get started and begin creating products that will quickly pay for the entire 1440 CNC lathe within a very short time.
If you're considering other machines to help you produce prototypes and completed products, we also carry a wide range of CNC mills for you to choose from. Depending on your budget and required features, we can definitely provide you with the best products that fit your needs.
Contact CNC Masters now to get your production line in motion and watch the profits roll in. With the support and expertise of CNC Masters standing behind you, you will find a significant improvement to your bottom line in no time at all!
What is a manual lathe used for?
A manual lathe machine is a machine used to make parts on a lathe by turning the part you want into the shape you want. There are two different types of manual lathes, one is a belt-driven and the other is an electrically driven lathe. A manual lathe is a machine that uses a spindle instead of a motor to turn metal. This type of machine is used for cutting metal quickly and efficiently, turning metal into other items such as wood.
Manual lathes are the most popular type of machine used by woodworkers. Because of their simplicity, they are very easy to use and maintain.
If you're a beginner at machining, learn to work with a manual lathe to get an understanding of how to machine products and how lathes work.
Some people find a manual lathe meets all their needs. Others start with a manual lathe and eventually graduate to a CNC lathe. With 1440, you get the best of both worlds. Its 40″ Distance between centers and 14″ swing over bed is perfect for smaller projects and even home use.
The CNC MASTERS 1440 Lathe Specifications
| SPECIFICATIONS | Inches | Metric |
| --- | --- | --- |
| Swing Over Bed | 14″ Max Diameter | 355.6 MM Max Diameter |
| Swing Over Cross Slide | 8″ | 203.2 MM |
| Cross Slide Travel | 6″ | 152.4 MM |
| Carriage Travel | 34.5″ | 876.3 MM |
| Distance between Centers | 40″ | 1016 MM |
| Length of Bed | 54″ | 1676.4 MM |
| Width of Bed | 7-3/8″ | 187.3 MM |
| Hole thru spindle | 1-1/2″ | 38.1 MM |
| Self Centering 3-Jaw | 6-1/4″ OD Size | 158.75 MM OD Size |
| Tailstock Spindle Travel | 4″ | 101.6 MM |
| Top Tool Slide Travel | 3-3/4″ | 95.25 MM |
| Headstock Spindle Taper | MT-5 | |
| Spindle Nose Mount | D1-4 | |
| Tailstock Spindle Taper | MT-3 | |
| Computerized Variable Spindle Control, Range of Spindle Speed with CSS (Constant Surface Speed) ability | 8 SPEEDS 70-2000 | |
| Lead Screw Diameter | 7/8″ | |
| Feed Rod Diameter | 3/4″ | |
| Thread Per Inch of Lead Screw | 40 | |
| Thread Cutting Range | 4-112 TPI (Min 10 TPI on CNC Mode) | Max 2.5 mm Thread Pitch |
| Main Spindle Motor | 2 HP | |
| Net Weight (approx) | 1695 LB | |
| Accessories Weight | 104 LB | |
| Total Shipping Weight | 1984 LB (185 LB crating and pallet) | |
| Coolant Tank (Tailstock Stand) | 10 QTS (option) | |
| Crate Size for shipping (approx) | 82″x43″x64″ | 2083 x 1092 x 1626 MM |
| Machine Foot Print / Floor Space | 84″x 37″ | 2133 x 939.8 MM |
Machine Power Requirements
| CNC | MASTERS | 1440 | CNC | Turning | Center | |
| --- | --- | --- | --- | --- | --- | --- |
| 110VAC | dedicated | circuit | with | a | NEMA | 5-15R |
| 220 to 240 VAC, single phase with ground @ 15 amp service required | | | | | | |
The Masters 1440 Lathe Tolerances
Accuracy
+/- 0.0015″ (or 0.0381 mm) X (diameter)
+/- 0.003″ (or 0.0762 mm) Z
Repeatability
within 0.0005″ (or 0.0127 mm)
Resolution
0.0002″ (or 0.006 mm) of linear motion on the X and Z
NOTE: The CNC Control Unit is available in either 110 or 220VAC models. The 110 VAC model will be shipped unless otherwise requested.
Return to Top
FEATURES
The CNC MASTERS 1440 Lathe Features
Designed to work with 64 bit operating systems: Windows 10 or 11 through your standard USB port. No other hardware required.
Powerful NEMA size 34 Z-axis micro-stepper motor within 1760 oz-in of torque to drive the carriage, and X-axis micro-stepper motor within 600 oz-in of torque to drive the cross slide. Stronger torque coupled with micro-stepping motion allows the CNC MASTERS 1440 Lathe to perform accurately without losing steps.
The minimum possible motion is .0002″ with a minimum speed of 0.5″ per minute. The maximum speed is 100″ per minute on your Rapid Settings with ramp down effect to keep the machine from jerking.
Full 2 Axis coordinated motion control on bipolar motors–far superior over unipolar technology when it comes to torque and power. True Interpolation.
Standard hand-wheels on each axis for manual option machining with carriage axis motor disengage feature to retain full manual control exactly like a standard conventional 1440 lathe.
X & Z Axes Zero Backlash Ball Screws with pre-loaded ball nuts to eliminate play on the cross slide and carriage travel, and provides precision machining. These custom-made precision ball screws allow for precision turning, facing, chamfering, threading, and even milling and grinding operations.
X & Z Direct Drives–no timing belts to adjust. This results in smoother operations and ensures accuracy unlike pulley and belt drive methods which can cause the belt to buckle causing inaccurate results. This unique design of direct drive keeps the user from having the need to change the belt or adjust as it wears down.
Computer Controlled Variable Spindle Speed, save time without having to change gears and program your spindle's speed in the Master Software through G-codes, simple English conversational commands, or on/off with your PC mouse.
Encoder installed at the spindle for true positioning and computer control, making internal and external threading applications easy on CNC without needing to mechanically change gears and manually change levers on the lathe.
CSS – Constant Surface Speed, the feed rate remains constant while the spindle speed adjusts itself allowing for a clean uniform surface finish.
Home Reference Sensors on the X & Z which saves your home/zero position as the first line of your program. This feature allows you to quickly return to the home position on any program without having to manually zero your two axes again.
Limit Switches on both extreme ends of each axis allowing you to confidently test your program without having to worry about an axis travel to its end and causing extreme damage to the machine. This also includes a sliding safety kill switch to prevent carriage travel from jogging too close to the spindle, a switch on the tailstock, a kill switch on the chuck guard, and footbrake.
Run your tool path from any line on your program
Easy to Use Jogging Features and Feed Control by pc mouse or keyboard
Jog-Input (Teach Mode) Command automatically writes each line of your toolpath as you manually jog each axis by pc mouse, keyboard, or the optional hand held remote control joystick to save as a program for repeat use.
Software Power Feed capabilities on X & Z with one click of the pc mouse for exact relative driving distance.
Hooks up to your PC, comes pre-built from the factory, and is completely tested before shipping out.
Pre-engineered for you when it comes to pitch and resolution. No axis or motor tuning needed at setup. No additional parameters set-up required. Display resolution is 0.0001 micro-stepping travel. Just start using it.
Run files from popular CAD-CAM softwares that produce standard G-Codes such as Mastercam, Surfcam, etc to machine intricate and detailed parts
Easy guide window to create threading applications for any size pitch
Easily build a file of commands to turn simple parts without the need to learn to use a CAD-CAM program.
Digital Read Out Display of your X & Z counters on your computer screen in INCHES or METRIC using your PC mouse, keyboard, or our optional Hand Held Remote Lathe Control.
Machine materials such as wax, wood, plastic, aluminum, brass, copper, steel, and stainless steel, and much more.
CNC controller is built inside the electrical box mounted behind the headstock
Can add computer control coolant, quick change wedge type tool post, and shield guard from our line of accessories to the CNC MASTERS 1440 Lathe.
Easy user-friendly setup for any beginner or experienced machinist. Easy to learn and operate. See our testimonials.
Backed up by our CNC MASTERS ONE YEAR WARRANTY or extend it for two more years.
Unlimited "life-long" operational Tech Support step-by-step trouble shooting and walk-through process by email or phone support Monday-Friday PST during normal business hours for as long as your company owns the lathe.
Easy to repair, replace parts, and maintain unlike costly servo systems which need to be serviced.
Free Master Software Updates for as long as the hardware can support it
Discounted Prices for Existing Customers of CNC MASTERS.
MX SOFTWARE FOR LATHE
Try out the new Master MX which comes with your CNC Masters Machine. The MX works exclusively with the CNC Masters MX Numerical Control Units now being built with our CNC lathes and milling machines.
Easy Wizard Cycles for your quick simple tool path creations such inside/outside threading and tapered threading, turning, boring, facing, grooving and part off applications without needing to use a CAM software.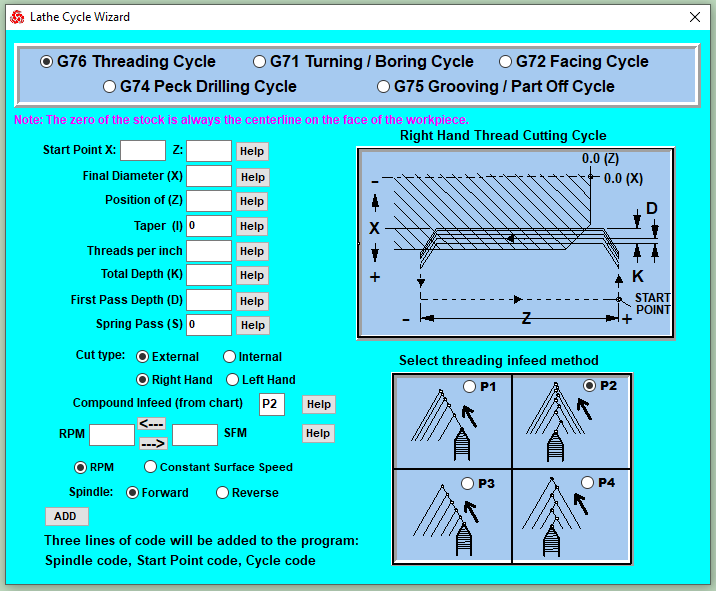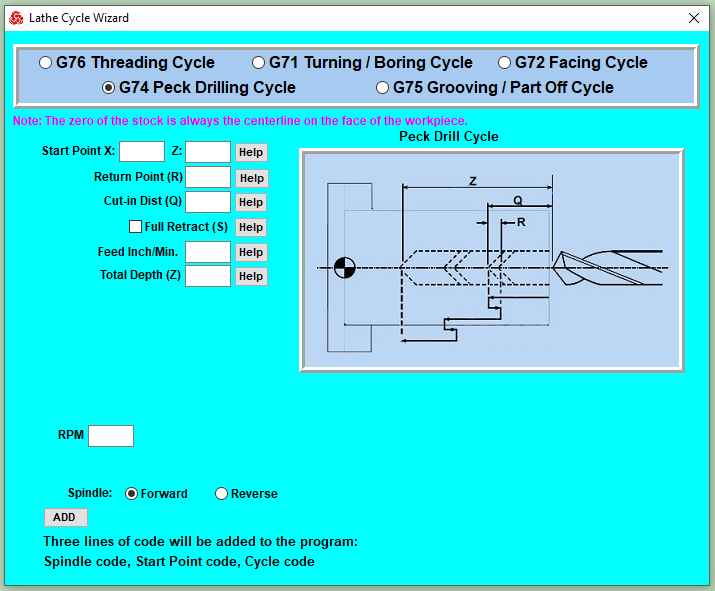 Import FANUC based G and M code programs from your CAM software for those detailed and complicated applications. We also offer VisualCAD/CAM for all your lathe applications. VisualCAD allows you to draw your part on the computer screen, and VisualCAM will convert that CAD drawing or convert your CAD drawings generated by other sources into a tool path program using G codes.G00 = Position (Fast speed)
G01 = Linear interpolation (Feed speed)
G02 = Circular interpolation (CW)
G03 = Counter Clockwise Circular interpolation (CCW)
Format: X__Z__I__K__ I,K are relative distance from start to center.
G04 = Dwell time
G20 = Input in inches
G21 = Input in millimeters
G71 = Turning / Boring cycle
G72 = Facing Cycle
START PT. X_Z_FINAL DEPTH(Z), LENGTH(X), TAPER(I), TOTAL DEPTH(K), FIRST DEPTH(D), FEED(F)
G74 = Peck Drilling (SAME FORMAT AS MILL G73)
G75 = Grooving / Part Off cycle
G76 = Threading cycle
SPINDLE CODE G99 (S)SPEED M_START PT. X_Z_FINAL DIA(X), LENGTH(Z), TAPER(I), TOTAL DEPTH(K), FIRST DEPTH(D), INSERT ANGLE(A), INFEED(P), THREAD PITCH(F)
G90 = Absolute move (Modal)
G91 = Relative move (Modal)
G96 = Constant Surface Speed
G98 = Linear feed rate per time
M03 = Spindle on
M04 = Spindle on reverse
M05 = Spindle off
M08 = Coolant on
M09 = Coolant off
M30 = End program
Don't know G-codes? Choose your Conversational Commands from our Pick Menu and simply type in your coordinates or mix it in with G-code commands right in the Editor.
ABSOLUTE
INCREMENTAL
SPINDLE ON
SPINDLE OFF
COOLANT ON
COOLANT OFF
MOVE
RAPID
FEED
CWCIRCLE X Z I K
CCWCIRCLE X Z I K
CALL
GO HOME
DELAY
PAUSE
FEED HOLD
/NOTES
END
View your tool path program in 2D or 3D in Simulation Mode.
Use your touch screen monitor – desktop or laptop – Windows 10 or 11 – 64 bit operating systems to drive your CNC machine in pendant style.
The MX is designed for PC use.
No additional hardware needed. The CNC Masters MX Control Unit is built with direct USB connection. No internal port conversions or having to use other hard-to-locate platforms.
Tech support in the USA by telephone or email as needed for as long as your company owns the machine — no expiration and no maintenance fees.
The MX supports…
Tool Length Compensation up to Thirty Tools within one program
Variable Spindle Control from 0 to max
Constant Surface Speed
Spindle Encoder for internal/external threading with a min of 10 TPI or max 2.5 mm thread pitch
Tapered Pipe Threading internal/external
Jog Feed/Teach Mode – create a program simply by jogging your axes
Feed and Spindle Speed Over-Rides on the fly
Relative exact movement positioning without writing a program — type in one movement and one-click your jog +/- arrow to drive that exact movement
Start from another location other than 0.00 – just preset the new coordinates directly into the counters
Press Go from from another tool path line other than Line 1
Save 0.00 as well as a home offset position for future program runs
Live Counter Display during computer numerical control movement without jumping ahead
Displays and runs in either inches or millimeters
Rapids up to 100″/minute
Feed Hold – step through each line in the program while opting to shut the spindle off and then resume program
Pause in the middle of a program
Coolant Control – optional
Trace Mode – Run one line independently at a time from beginning to end in your program to help you study the movement and establish your setup
Editor Locked/Unlocked to easily write and edit your program and prevent accidental typing during a program run
Displays Run Time
Hot Keys – if your preference is to control your machine by keyboard such as the arrows, space bar, and letters simply open the Hot Keys command
Run Sub-Routine programs using CALL for nesting applications or to mass produce the same part on a constant loop.
Disable Motors — Easily disable motors to hand crank each axis. Re-engage the motors for cnc control in one click.
Questions? Email us at sales@cncmasters.com.