Tool change with height compensation. With the CNC Jr., Baron, Max, or the Supra CNC Mill you can machine production parts that require several tool changes. You can program up to ten different tools. The MASTER software will automatically adjust the Z axis for each tool change. The tool height compensation complements our manual quick tool change system. It only takes a few seconds to release and replace a new cutter from the master holder. This smart investment will pay off in no time. CNC Masters is proud to bring you the quick tool change system by Royal Products.
Royal Products (Master Holder: $995.00; End Mill Holders: $332-$352 each if purchased with a CNC Mill.  Add 15% if purchase separately from a CNC machine.)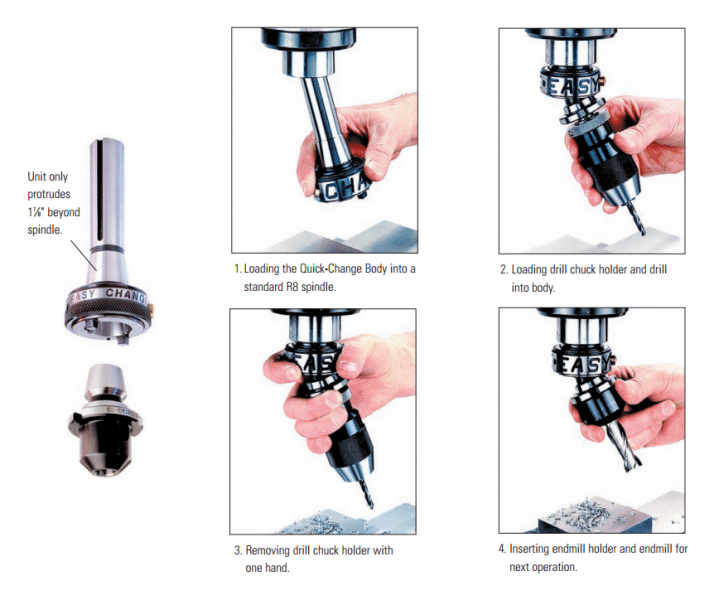 Master Holder and End Mill Holders sold independently
Video: How to Use Tool Height Comp with the Royal Quick Change System

The Master Operating Software allows for Tool Height Compensation up to 10 tools within a program using quick change tools made by Royal Products.
Quick Tool Change Features:
Once installed, tools can be changed in seconds.
Short overhang and positive drive permit many milling and drilling operations.
As simple to install as an R8 end mill holder; no machine modification necessary.
Female taper of body ground to .0002″ TIR in relation to R8 taper.
Male taper of individual tool holders ground to .0002″ TIR in relation to tool holder diameter.
Tools are easy to remove and install with one hand.
Very little clearance is needed between the tool and workpiece when changing tools. This greatly reduces the amount of time spent moving the table or retracting the quill when changing the toolholders.
The body can be left in the spindle, reducing wear on the spindle from constant tool changes.
Tool is designed for light/medium-duty milling. We recommend using a solid end mill holder for heavy milling (5/8″ and larger).
Made in the UK.