Most machine shops and other metalworking manufacturers have milling machines and lathe machines. Each machine employs subtractive manufacturing to remove material from a workpiece and transform it into the desired shape and specifications.
The differences between the two machine tools are in how they accomplish the shaping and sizing, and the primary difference between a milling machine and a lathe machine is in the relationship of the cutting tool to the workpiece. After you understand that connection, you can optimize each of them to take full advantage of their capabilities.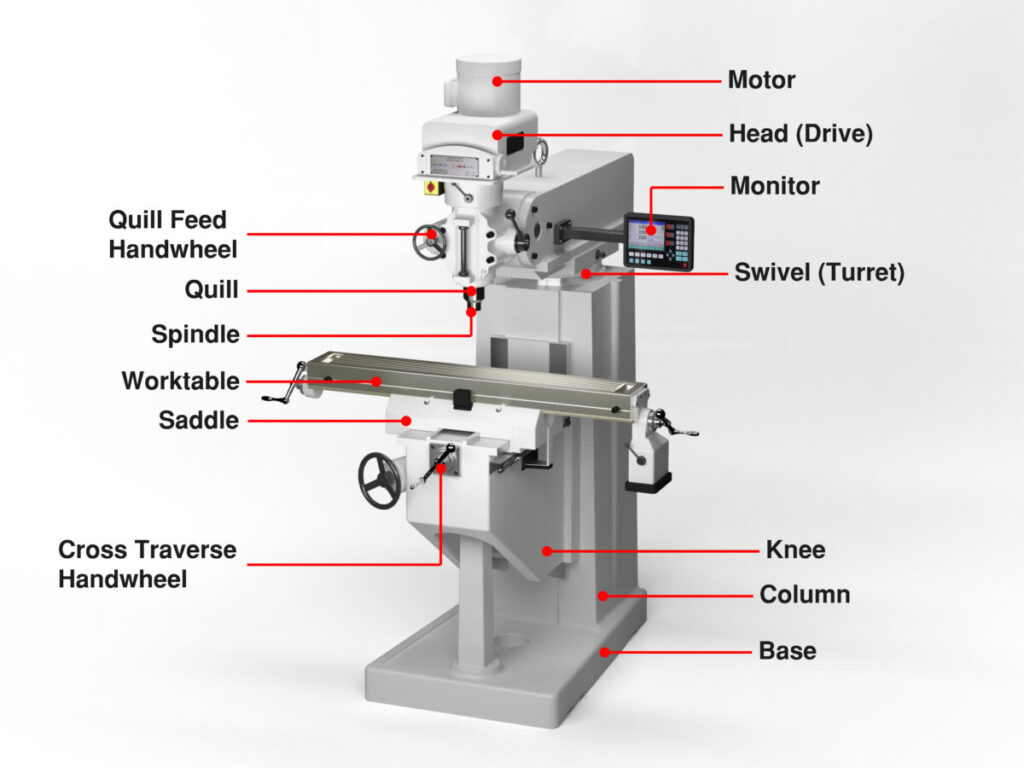 What is a Milling Machine?
Unlike lathe machines, which have a longer and lower profile similar to a workbench, milling machines are upright with a smaller footprint, giving the machine shop more options for positioning them. As well as their size and shape, the two machines contrast in other ways.
Before the milling process, a workpiece is fastened to the machine tool's table, either with clamps or using a vise to hold the parts. It then removes material from the stationary workpiece by moving the table into a rotating cutting tool, such as an end mill to cut material along its side (peripheral milling) or a face mill to machine a flat surface.
Milling machines' work tables typically move in three directions: the X-axis travels right and left, the Y-axis goes in and out, and the Z-axis moves up and down. The Bridgeport-type vertical mills have a second Z-axis with the quill located in the machine's spindle. Machinists use the quill handle to move it up and down for operations like drilling.
Although you can find multiple types of milling machines, the three that most manufacturers turn to are the vertical, horizontal, and computer numerical control, or CNC milling machine. Until the CNC machines emerged on the scene, the manual vertical mill was the epitome of versatility. CNC mills have become popular in metalworking and woodworking because of their many capabilities, including prototyping.
The spindle of the horizontal mill is perpendicular to the vertical mill's spindle and parallel to the ground. The table moves sideways while the cutting tool goes up and down on the table to cover large cutting surfaces. Horizontal mills are frequently used for heavy-duty workpieces.
What is a Lathe?
A rotating spindle and single-point lathe tool will give you what you need if you have to produce cylindrical parts. By holding your workpiece in a horizontal lathe chuck or fastening it to a faceplate, the lathe will turn the piece on its axis, removing material, and providing cylindrical parts with accurate measurements and roundness.
A lathe tool is secured in a tool holder or tool post, and a cross slide makes it possible to move a stationary cutting tool along the flat surface of the cylinder, which is in the direction of the X-axis. Moving the tool on the Z-axis (toward the chuck) will remove material from the workpiece's diameter, producing the round part.
Longer pieces, such as shafts, are turned (machined) between two centers. Small dimples in the ends of the shaft fit over a cone-shaped headstock at the front of the lathe and a tailstock at the rear, providing support for the long round parts.
There are several types of lathes, the most popular being the engine lathe, turret lathe, and CNC lathe. The engine lathe is the primary metalworking machine for turning, boring, drilling, and reaming. In contrast, the turret lathe is a non-CNC production machine with a hexagonal turret with lathe tools for doing several operations in sequence. CNC lathes use CNC programs to get the results of an engine lathe but with the speed, precision machining, and repeatability that only automation can ensure.
What is Better: A Lathe or Mill?
The type of parts you are contracted to machine will determine which of these machine tools is "better." If your company receives an order for 10,000 round electronic components that require screw cutting, your CNC lathe will be better than any milling machine. On the other hand, if you are machining a heavy rectangular block that entails peripheral milling and considerable grooving on the block's surface, the milling machine will be your first choice.
Regarding versatility, the milling machine has always had a slight edge. However, with the advent of CNC machining and live tooling on today's multi-axis lathes, the line between lathe and milling machine has blurred considerably, making it more difficult to declare a clear winner in the lathe vs. milling machine contest.
What is the Difference Between a CNC Mill and a CNC Lathe
A CNC lathe and a CNC mill use manufacturing software and programs to create parts or products from raw materials. What a CNC milling machine and CNC lathe can do is similar to what their manual counterparts can do. However, a manual machine and a CNC machine are starkly in contrast regarding how fast they run, how accurate they are, and how consistently they hold tolerances.
As you have seen, the primary difference between a lathe and a milling machine is how each machine and its part rotate. The workpiece on a CNC lathe rotates against the single-point lathe tool to produce a shape, while a CNC mill's cutting tools rotate and feed into the workpiece to remove material. Those two differences are significant, resulting in various types of finished parts for each machine tool.
What Different Parts Do CNC Lathes and CNC Mills Produce?
The fundamental differences in function between a CNC lathe and a CNC mill make each machine valuable for specific parts. Cylindrical parts, such as shafts, screws, knobs, cams, and crankshafts, are an ideal fit for the CNC lathe. A CNC mill works well with more complex shapes having pockets, flat surfaces, grooves, holes, and edges. Because of the versatility of a milling machine, you cut gears, add keyways, drill and tap threaded holes, or cut a dovetail. The list of parts coming off a CNC mill is virtually endless.
Types of CNC Lathes and CNC Mills
As mentioned earlier, the different types of CNC lathes and CNC mills can be confusing. Although CNC machines get well-deserved recognition and praise, manual mills and lathes still have a place in today's modern machine shop. Sometimes a machinist only wants to jump on that engine lathe or Bridgeport-type vertical mill to knock out a straightforward piece that doesn't require high precision.
However, when parts or components have tight tolerances, tough metals, or extreme complexity, it's reassuring to know you have two weapons in your arsenal to help you handle them—the CNC lathe and CNC mill.
No Need to Choose Between Buying a Lathe or CNC Machine
At CNC Masters, you can purchase a CNC lathe or desktop CNC milling machine, knowing you can effortlessly convert any of our elite CNC machines back to manual mode for added versatility. Our lathes and mills are competitively priced and backed by our expert support team. Designed and built in the USA, our machine tools offer innovative technologies for metalworking, woodworking, and many other industrial applications.
Contact CNC Masters to discover how we can help you. Please email us directly at sales@cncmasters.com or call us at 626-962-9300.