If you work in or around the computer-controlled machining community, you've heard the terms CNC mill and CNC router tossed around quite a bit. Occasionally they might even be used interchangeably.
However, despite their similarities as CNC machines that remove material, they are two separate machine tools with crucial differences, making each appropriate for dissimilar types of work. But before we delve into their contrasts, let's look at what these machines have in common.
How Do CNC Mills and CNC Routers Compare?
Any comparisons of the two machines begin with their names: they are both computer numerical control (CNC), meaning you benefit from computer-controlled technology. CNC cutting eliminates human error from the machining process, and each part will come off the machine dimensionally correct and within tolerances. Each machine requires a skilled programmer and an operator, preferably qualified, to set up and change parts.
Both machines will provide consistently accurate results typically missing from manual machines, and the machining will be completed in a fraction of the time.
Next, we'll check out the details of each machine, and a clearer picture of their differences should start to emerge.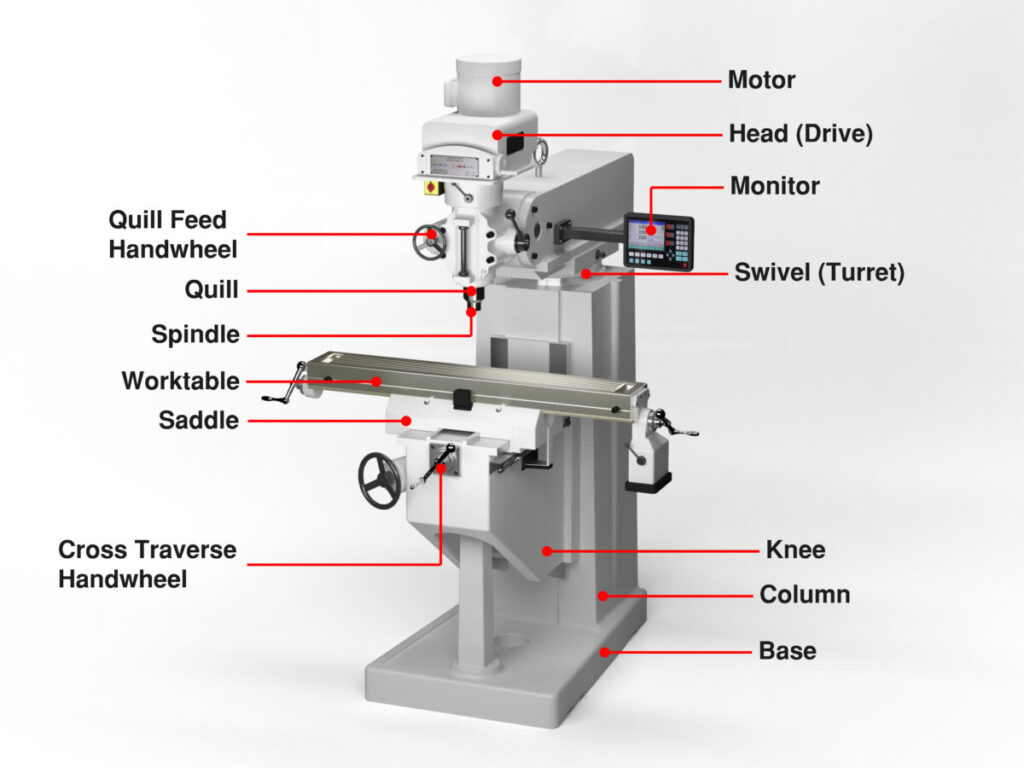 What is a CNC Milling Machine?
CNC milling is a manufacturing process using a cutting tool mounted on a rotating spindle to remove material from a metal block or other material. The workpiece is clamped to a worktable, and this table moves or rotates on various planes so the tool can work at the desired angles. CNC milling machines can have five or more axes of motion to machine complex shapes, eliminating the need to move the workpiece to another machine for secondary operations.
The axis movements of a CNC milling machine are based on an X-Y-Z coordinate measuring system. A CNC mill's workpiece moves along three axes: X-axis is left-to-right, Y-axis is front-to-back, and Z-axis moves up and down. More clearance along the Z-axis allows milling cutters to make thicker cuts since milling machines cut material using high torque instead of rotational speed.
Machinists call on the CNC mill for heavy-duty jobs that require cutting tougher materials like stainless steel and hard metals like titanium. These stronger metals need a machine designed to handle their unique properties and provide the complex designs, high precision, and accuracy required in the parts they machine.
However, these technologically-advanced machines aren't strictly for industrial use, such as aerospace components. A broad range of materials is within a CNC mill's capabilities, including wood, aluminum, copper, acrylic, bronze, PVC, nylon, and plywood. Other areas of creativity include furniture, instruments, sculptures, and various DIY entry-level projects.
What is a CNC Router?
Like a CNC mill, a router cuts out complex shapes controlled by CAM software and a standard programming language called G-code. However, CNC routers typically work with soft materials like wood, plastic, and aluminum. They are limited to working with thin materials (plywood boards or sheet materials) because the cutting tool has restricted motion along its Z-axis.
Most CNC routers have a gantry-style construction on which the spindle travels along the X and Y axes, and the workpiece is placed on a stationary table. Routers have high-speed spindles allowing them to cut through softer materials at much higher speeds and feed rates, but they have less torque since they use rotational speed to drive the force to the cutting tool. CNC routers have shorter machining cycles and are ideal for operations requiring multiple pieces.
CNC Router vs CNC Mill
In a nutshell, CNC routing is most often used for woodworking and CNC mills for metalworking. Gantry-style CNC routers are usually less robust than their CNC mill counterparts because the mills are almost always made of heavy-duty cast iron or steel construction. In contrast, the routers might have an aluminum, plastic, or plywood framework. Here are some other key differences:
Design
Because of how they are designed, CNC milling machines will always be the better choice for machining industrial-grade hard materials, while CNC routers will work well on wood, acrylic, and soft metals. CNC mills have a smaller footprint, but their weight is concentrated in a smaller area. This mass gives the CNC mill rigidity, helping to smother vibrations when machining harder materials.
Work Envelope
Another difference between the two machines pertains to their work area. Since CNC routers are machining wood, MDF, plywood, and aluminum sheets, they need a large cutting area. On the other hand, CNC mills are designed with less cutting area than CNC routers because they will be cutting thicker and heavier metal parts, and the smaller travel helps them maintain rigidity.
Tooling
CNC routers use router bits in woodworking to cut, shape, and engrave, while CNC mills mainly use end mills (shaped somewhat like a drill bit) for high-precision cutting, contouring, slotting, and profiling. Router bits and end mills have various numbers of flutes that can be straight or spiral patterned, and the flutes can be ground at specific angles. Both types come in different sizes and shapes, usually carbide or high-speed steel.
Because of the Z-axis limitations on the CNC router, router bits will be significantly shorter than end mills used for milling operations.
Materials
You will find significant differences in the materials that each machine can handle. CNC mills are built to handle virtually any material. Although it might not be practical or advisable to machine a specific material on a mill, they can run it nonetheless.
On the other hand, CNC routers are designed to cut soft materials, like wood, foam, plastic, and aluminum, and they will cut them faster than the mill as long as they are not too thick. Thicker and tougher materials—for example, stainless steel, cast iron, carbon steel, and titanium—are meant to be machined on a CNC mill or CNC lathe, if appropriate.
Speed
A CNC router's revolutions per minute (RPM) are significantly higher than a milling machine, meaning the router can be run at a higher feed rate, offering minimum cutting times. However, that higher production comes with a huge caveat: routers cannot handle the hard materials nor take the same deep cuts as a machining center, so they will be confined to working on softer materials and sheet materials.
Accuracy
Even the best CNC routers cannot match the accuracy of CNC milling machines, so mills are best for parts requiring high precision and close tolerances. The router's stationary table design causes some of its lower precision capabilities. Still, it's mostly the CNC mill's rigidity and limited range of motion that allows them to cut more accurately. Also, the mill's tooltip configuration enables them to machine complex shapes.
Cost
Another difference between the machines is their price. Although you can buy a desktop router for a few hundred dollars, full-sized industrial CNC routers start at approximately $15,000 and can go up past $100,000.
An American-made versatile Bridgeport-type CNC vertical knee mill from a reputable manufacturer like California-based CNC Masters starts at under $13,000, while some sizeable 5-axis machining centers cost $350,000 and up.
Do You Need a CNC Router and a CNC Mill in Your Shop?
CNC mills and routers are valuable machine tools but will only add value to your operation if you have the type of work to support them. For instance, if you are in a metalworking shop doing either short-run jobbing or production work, you can find excellent CNC milling machines to care for your needs.
Add a CNC router to your shop if you've decided to expand into sign-making, kitchen cabinet production, or wood carving. Remember that CNC mills are much more versatile, with few limitations on material type, thickness, and operations.
Take a careful look at your anticipated applications. You'll likely discover that the CNC mill can handle all your requirements accurately and efficiently!
Questions?
Talk to the CNC experts at CNC Masters. We have CNC machines to fit your shop and your budget, and our professional staff is here to answer your questions and help you determine which machine tool will benefit your unique business the most.
Please fill out our convenient contact form, email us directly at sales@cncmasters.com, or call us at 626-962-9300.