Starting out? Looking for a new addition to your modern machine tool arsenal that won't break the bank? Finding the best cheap CNC machine can be a challenge. You need something that won't cripple your budget but will provide the versatility and power you need to expand your business.
Whether you're looking for the best CNC router, CNC engraving machine, or CNC milling machine, the chances are you're looking for the same things: a CNC machine that's affordable, durable, and provides high-end precision and power.
With that in mind, here are some of the best cheap CNC machines we've found. We're focusing mostly on CNC milling machines, but we'll also touch on CNC lathes and routers. These high-end machine tools are also great for hobbyists and aspiring machinists who want to develop their craft in the home workshop first.
The first true milling machine on the list. The CNC Jr from CNC Masters is a fully-capable 3-axis CNC vertical milling machine. Heavy-duty cast iron construction and high-end X and Y ball screws mean that the CNC Jr comes ready to tackle virtually any project.
The CNC Jr is a benchtop milling machine offering the same power as many larger models. Fully CNC-equipped, the CNC Jr is compatible with any CAD or CAM program that produces standard G-codes. It can also be operated manually, for the times when you don't want the hassle of writing a new program for a simple operation.
The CNC Jr is equally at home in a small home workshop or a busy machine shop. It can handle production runs or intricate prototyping. The Jr is heavy enough to provide the necessary rigidity to ensure precision but light enough to qualify as a true tabletop milling machine. It's a durable machine that will long outlast many of the other entries on this list.
Best of all, the CNC Jr is easy to learn and comes with all the tech support you need. Prices start at $5893 and can be customized with a 4th axis, coolant systems, upgraded collets, and other features as needed.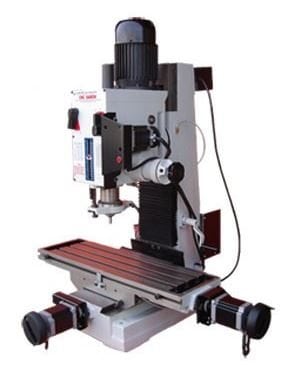 One of the most versatile machines on the list, the Baron is a larger CNC machine that still fits into the tabletop category. It's perfectly capable of handling small to medium production runs. There's no need to go easy on it; heavy-duty cast iron construction means that you can run the Baron every day without fear that it will break down.
The Baron features full 3-axis movement, with micro-stepper motors on the X, Y, and Z-axes. CNC Master's custom software runs on Microsoft Windows and allows you to easily design any custom operation.
While a true vertical milling machine, the CNC Baron features a moveable spindle head that can be tilted and angled to achieve more of the effect of a horizontal milling machine. While capable of fully automated operation thanks to the advanced CNC controls, the Baron can also be operated manually with the flywheels. This allows skilled operators to perform smaller operations by hand, often faster than it would take to write a new program.
The Baron is turnkey and designed for simplicity and ease of use. There's one port for oil and lube, manuals for both the machine and the CNC programming software, and the Baron is ready to go from the moment you turn it on.
If desired, the Baron can be customized with a fourth axis of movement. Please contact our sales team to learn more. Prices start at $6350, and like the CNC Jr are fully customizable as needed.
A workhorse CNC milling machine, the Supra is one of the best cheap CNC machines you'll find on the market today. Cast-iron construction on a traditional knee mill, CNC Master's Supra Knee Mill comes in two sizes. The 9 x 49 Supra features a max travel of 34" x 11.5" on the X and Y axis. The Z-axis is quill driven for an extra degree of precision and accuracy. The end result is an affordable CNC machine that's fully capable of high-end work.
There's also a larger Supra available in a 10 X 54 table, capable of max travel of 35.5" x 15.5" on the X and Y axes. The Z axis is quill driven. This larger Supra is fully capable of industrial work in virtually any setting, making it a great machine for small machine shops as well as high-end production facilities.
The full set of CNC controls also provides for operation recall; rather than reprogram the Supra every time you switch parts, you can build up a library of existing tool paths on the machine. That simplicity, combined with the Supra cnc milling machine power, sets it apart from other cheap CNC machines.
The Supra relies on CNC Master's MX control software, included with each CNC Master's CNC machine. The Supra CNC mill controls are compatible with most CAD software.
The 9 x 49 Supra starts over $12,483; the larger 10 x 54 begins at just under $15,000.
The CNC Max milling machine is CNC Master's top-of-the-line benchtop CNC machine. An upgraded version of the CNC Baron, the CNC Max features longer travel on the Y-axis and a high spindle speed. The result is a larger machine than the Baron, but one with a similar range of capabilities.
The CNC Max is constructed along the same lines as a classic Bridgeport knee mill, but with a slightly reduced profile to reduce floorspace.
Cast iron construction, true ball screw accuracy, and dovetail ways all make this a mid-size CNC machine capable of full-size work. The CNC Max could confidently be run 40+ hours each week, powering large production runs for a full-scale machine shop or manufacturing facility. A 2 HP main motor and micro-stepper motors ensure plenty of power and precision, with no unevenness or rough cutting.
The MX Software included with every CNC Masters machine is fully Windows 10 or 11 compatible. You'll also be able to use it with third-party CAM software, so there's no need to fret over operating systems. The Max is the best CNC machine CNC Masters has to offer for the discerning machinist.
Other CNC machines come without the necessary software, or with a distinct lack of customer service. But the CNC kits from CNC Masters come fully supported by our knowledgeable, in-house support team.
For a desktop machine, the CNC Max is far more affordable than most CNC machines. Prices start over $7,475.
What is CNC?
Computer Numerical Control (CNC) allows operators to program and execute highly precise cutting operations automatically. The operator lays out the exact steps needed to cut a part, often using a CAD/CAM program. That program is then converted into G-code, the programming language used by CNC machine tools.
Once entered into the machine, a CNC program can be repeated as often as necessary. There's no need to re-enter the programming; this allows operators to create dozens, hundreds, or even thousands of identical parts from the same set of instructions.
CNC programming also provides a high degree of automation that even hobbyists can take advantage of. Got a part that will take several hours to cut? Set it up on your CNC mill before bed, hit the sack, and check on the progress in the morning. 
CNC Routers and Milling Machines
The best CNC routers and milling machines both employ similar principles. The workpiece is mounted on a bed with a cutter on a rotating spindle above it. With vertical milling machines and routers, the cutting tool can typically be moved along the X, Y, and Z-axes. In other cases, 3-axis movement is achieved with a degree of travel on the bed itself.
This allows the cutting tool to lower into the workpiece, perform a cut or a series of cuts, withdraw, move to a new location, and start all over again.
Both routers and milling machines possess a great degree of flexibility for both professional and DIY projects. They're both very similar in practice as well. The key difference lies in the materials each is capable of working. 
CNC router machines tend to be used with woodworking, or with soft metals or soft materials like PVC and acrylics. Milling machines often focus on metal pieces. Functionally, they remain very similar.
CNC Masters produces professional-quality CNC machines. Their range covers tabletop milling machines as well as stand-alone full-size mills. The entire range of CNC Masters milling machines are priced competitively, making them some of the most affordable professional CNC machines on the market. Best of all, each of these CNC machines is assembled and tested here in the USA to the highest standards of quality.
Affordable CNC Router
Because CNC mills and CNC routers are so similar, the same principles of affordability and quality apply to both.